Read The Care Facility Admission Agreement Before You Sign.
A recent court decision, in the case outlined below, prompted me to write this article.  The case highlights just how important it is for children and Agents under power of attorney documents to read everything they sign on behalf of their parents or the people who have appointed them as Agent.  In particular, by signing on behalf of someone entering a nursing home or other care facility, you could be opening yourself up to personal liability.  Do not just assume that the care facility will not try to go after your personal assets if the care recipient can neither personally pay nor obtain Medicaid benefits.  The care facility is likely to look for any avenue to obtain compensation for the care they provide.  If you sign something saying you will be personally liable if the care facility has no other means to be paid, you could be on the hook for tens or hundreds of thousands of dollars.
In addition to thoroughly reviewing the admission paperwork that you sign, I also suggest adding a provision to the contract that states that you as child and/or Agent for the care recipient are not personally liable for payments to the care facility.  This provision should also be signed by someone at the admissions or financial department for the care facility.
Here are the facts of the case that provides some insight into the attempt a care facility will make to obtain payment from whatever source available.  A North Carolina Appeals Court dismissed a breach of contract lawsuit against a nursing home resident's daughter even though the daughter signed the admission agreement because the resident was named as representative in the agreement. Wrightsville Health Holdings, LLC v. Buckner (N.C. Ct. App., No. COA16-726, Feb. 21, 2017).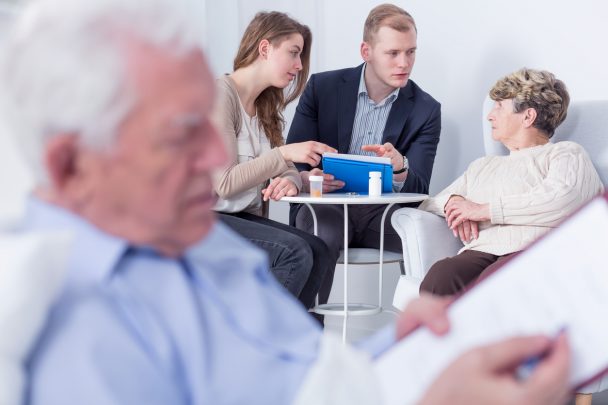 When Sharon Buckner entered a nursing home her daughter, Melissa, signed the admission agreement on her behalf. The agreement stated that Sharon was the "resident" and the "representative," but Melissa signed the agreement and initialed the portion stating that the representative agreed to personally guarantee payment in the event the resident's Medicaid application was denied.  Ultimately, the resident's Medicaid application was denied and the nursing home demanded that Melissa pay Sharon's unpaid bill.
After Melissa refused to pay, the nursing home sued her for breach of contract. Melissa filed a motion to dismiss, and the trial court granted the motion. The nursing home appealed.
The North Carolina Court of Appeals affirms, holding that Melissa was not liable for breach of contract. The court rules that because Sharon is named as resident and representative under the admission agreement, Melissa's signature at the bottom of the document "must be read as" Melissa signing on behalf of Sharon and "her signature and initials on the document merely obligated her mother to comply with the terms of the Admission Agreement."
So, the daughter of this care recipient ultimately was lucky not to be held legally liable to pay for her mother's nursing home care.  That being said, the daughter had to spend valuable time and money defending her case.  This loss of time and money came as a result of her signing the admission agreement without clearly stating her refusal to take on personal responsibility for her Mother's nursing home bill.
If you are put in the position of signing an admissions agreement to a care facility for your parent or loved one, be very careful to review all terms and consider having an attorney review the contract so that you are protected.
Also, as you are representing your parent or loved one, remember that there are planning opportunities that may allow you to protect some or all of their financial assets from the rising cost of long term care.  Some of the most common planning considerations are:  Creation of Last Will & Testament, Creation of a Medicaid Asset Protection Trust, use of a Medicaid Compliant Immediate Annuity, qualification of the Family Caregiver Exception, creation of the Caregiver Agreement, Irrevocable Burial Reserve, Monthly Gifting Exception, Elder Law Friendly Financial Power of Attorney, Medical Power of Attorney, Living Will.
Check out our other great articles throughout this site that more specifically address the different ways to protect and preserve your assets. Click here:  Blog Articles to check out!
For PA Residents:  To request our informative Elder Law Guides click here:  Elder Law Guides
To keep up to date with changing laws and new planning options sign up for our free newsletter by clicking here:  Subscribe to our Informative Newsletter today!
For assistance developing a comprehensive estate plan or nursing home asset protection plan in Pennsylvania, please contact Douglas L. Kaune, Esquire at (610) 933-8069 or email him at dkaune@utbf.com. Doug's entire practice is focused on elder law, Medicaid application, estate planning, trust planning, estate administration and protection of clients' assets from nursing home spending and estate and inheritance taxation.
Unruh, Turner, Burke & Frees, P.C. is a full service law firm which has three convenient office locations in Phoenixville, West Chester and Paoli, Pennsylvania. The firm primarily services clients in Chester, Montgomery, Delaware, Philadelphia, Bucks and Berks Counties, but can represent clients throughout Pennsylvania.