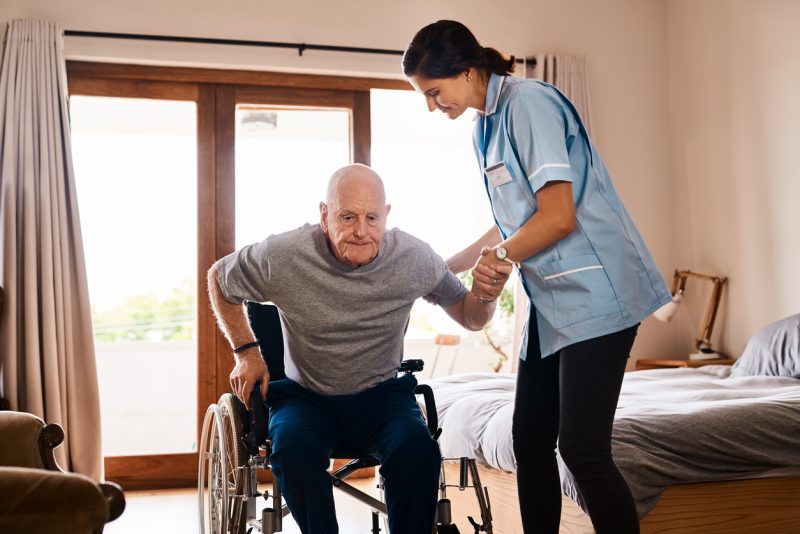 Definition: What is Long-Term Care? Long-term care is the care that an elderly or disabled person may need if they can no longer individually perform essential daily activities for an extended period of time. The need for long term care can arise from the effects of aging, from an accident or as the result of an injury or illness.
My own father, a ferociously independent and kind man who helped others throughout his life eventually (and reluctantly) needed long term care after suffering a very serious stroke. His need was sudden. In other cases, the need for care is more of a progression.
Most long-term care initially involves assisting the elderly person with basic personal needs rather than providing medical care. And under many legal and practical guidelines, long-term care is deemed necessary if the person needs help with two or more "activities of daily living" (such as bathing, dressing, eating, and going to the bathroom). In these initial stages, family members usually provide long-term care to start, but as an illness escalates or an injury occurs, paid care (at some level) becomes necessary.
Because the circumstances and needs of the elderly can vary so much, there are a number of different ways that long-term care has traditionally been provided.
Most long-term care involves assisting with basic personal needs.
Here is a brief review of the many types and sources of long-term care (and note that there is often overlap):
Home care from an untrained family member. The most basic form of long term care is when a family member becomes the caregiver. It can involve simple tasks like running errands or more complicated ones like bathing and dressing. Sometimes family members can be paid for their work and there are specific regulations allow this. At the next level, family members can, through the Physician's office or other resources develop skills to assist with administration of medications or simple and recurring home medical "procedures."
Home care aides/services. As the needs of an elderly person begin to increase or to become more complicated, or in cases where family members are not available to assist, home care aides are often hired privately or through services to provide companionship, assisting with meal preparation, housecleaning, laundry, shopping, and even simple local errands. At this level, medical services are not yet provided. NOTE: There are tax implications and payroll/insurance issues associated with hiring such an aide directly and these add significant and often unexpected costs that often mean that hiring through a service is a better and simpler solution.
Home health care aide. Again, as needs increase, Home Health Care Aides can provide personal care (bathing, grooming, etc.), but can also assist with range-of-motion exercises, provide some medically-related care (changing adult diapers, dress and care for wounds, check blood pressure, and monitor medical data ), and provide assistance with housekeeping and errands.
Adult day care. Adult day care allows family members to get a respite from the very rigorous duties of day to day caregiving. In general, there are three types of centers: those that focus on social interaction, those that focus on health care, and special Alzheimer's/Memory care centers.
Assisted living facility. Assisted living facilities are a housing option for people who can still live independently but who need some level of assistance as described above and that is often delivered in the home by aides and home healthcare aides. Depending on the facility, that assistance may include help with meal preparation, housekeeping, medication management, bathing, dressing, transportation and some nursing care. Residents usually live on their own, in small apartment units. Despite the emphasis on independence, supportive services are available 24 hours a day in order to provide different levels of help with activities of daily living. The level of medical supervision depends on the facility. These centers/facilities are usually "private pay" but can be covered by some long-term care insurance policies. The costs vary significantly but often include a comprehensive fee for "rent" of the unit, meals and basic services – with additional services available for additional fees.
Full Nursing home care. Nursing homes are the highest level of long-term care. They provide 24-hour care to residents. Staff provide help with daily activities such as feeding, dressing, and bathing along with medical care and physical, occupational, and speech therapy. There are also often a range of medical service provided on site as well as transportation to hospitals and to physicians appointments.
Costs for the various levels of long term care can vary widely, from a few hundred dollars a week to pay for coverage when family members are at work to $300,000 or more a year for around-the-clock in home care or care in the most expensive nursing homes, perhaps with private aides hired on the side. Costs of $125,000 to $150,000 per year for nursing home in this area are very common.
As a result, you can see how even wealthy families can deplete significant assets in a short period of time -especially where both a husband and wife need such care.
So how do families pay for such costs and are there ways to ethically protect some family wealth and assets?
Well, long-term care costs, whether in home, at an assisted living facility, or in a nursing home, are paid primarily from four sources:
Privately through out-of-pocket payments from family assets and investments as well as social security and pensions/IRA and retirement accounts,
Medicaid (the US Government's state run long term care system),
Through privately purchased long-term care insurance, and
Medicare, (the government run health insurance for people over age 65). Note, however, that Medicare only pays for expenses for a period of up to 100 days of skilled nursing facility care following a hospitalization. In addition, only for so long as the patient is deemed to need skilled care. Medicare may also pay, on an ongoing basis, for skilled care at home in limited cases.
If all of this seems complicated and overwhelming, it is. But, we are here to help families facing these issues to develop a plan to protect assets while achieving optimal care for their loved ones.
For more information on how we can help you, simply call 610-933-8069 and ask for an attorney to call and discuss your case.
If you're not ready to start planning and protecting family assets just yet but you need to know more, here are links to a few really important resources we have prepared for you:
Three Elder Law and Nursing Home Planning Reports
Learn more about this topic and how to successfully protect your nest egg from long term care spending by signing up for our newsletter: Click here to subscribe